Paul James Sound - PJ / Diane / Patty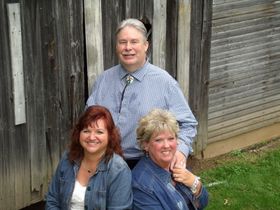 PJS - Paul James Sound is a Southern Gospel trio based in Columbus, Ohio. Their roots consist of Diane growing up in southeast Ohio, Paul in West Virginia and Patty in Virginia. They have created their own sound that culminated in some front-porch style harmony; "The Paul James Sound". Their church roots run deep as they were all raised around music and singing. Other early influences include the Happy Goodmans, the Speers, and the Hinsons, just to name a few.

PJS has five CD projects including their newest CD which came out in January 2020.  Their previous project titled, "When I Get Home" produced 4 Singing News Top 80 songs.  Paul  has co-written a couple of songs on their new project along with two other originals.

Paul James Sound performs at just about any size venue. They have opened for nationally known artists as well as ministered in revivals, and they are at home doing a complete concert themselves. PJS has performed on 4 cruises, and are invited to sing again in January 2021 with the Guardians and others. With their last cruise culminating in at least 8 people coming forward to make their commitment to Christ, Paul James Sound considers that the biggest reward and compliment of all!

Paul "PJ" Byer - was born and raised in Huntington, WV. He went to church at 21st Street Tabernacle in Ashland, KY where he was saved at the early age of 7. He came to Columbus Ohio at the end of 1981 to live and to pursue Gospel music. He has played/sang gospel music for over 30 years for the Liberty Gospel Singers, Peaceful Valley Singers, and the Mast Brothers. He has served at three different churches as music/song/worship leader and is currently at Southwest Free Will Baptist Church in Columbus, Ohio. Along with singing and playing different instruments, PJ is also a song writer and has collaborated with another song writer, Stephen Cheney on a couple of songs on their latest CD Project, "Restoration".

Diane Byer - is from Zanesville, Ohio the only native Buckeye, and has played piano and sang since she was a child. She has been with the Lordsmen from WV, The Maxwell Family, The Cordray's, (when she met Paul James), Peaceful Valley Singers, and the Mast Brothers. She plays the piano with a beautiful-flowing sound that goes straight to your heart. She mostly sings harmony with the group but does a fantastic job on several songs including, "That Sounds Like Home to Me" and "Second Chances", just to name a couple. People love her warm personality. PJ & Diane have three children; Amber / Jonathan and Joshua along with seven grandkids; Jacy / Peary / Jazzilyn / Maylee / Joshua Jr. / Wesley and Logan.

Patty Sleeper - Originates from Christiansburg, VA. She has been a member of SWFW Baptist church since the early 90's. She is married to Scott Sleeper and they have two sons, Stephen and Daniel, and one Granddaughter. Patty has a very strong but yet smooth country-style voice with great vocal range. She has sang in church since she was a little girl by herself and with her sisters. She also has a solo project and has been part of Paul James Sound since their 1st project in 2008. PJS is glad to have Patty as a member in their trio. 
Call Radio Stations and Request
"There Has Never Been"
         by: Paul James Sound 
Next Scheduled Appearances
Featuring The Whisnants and Special Guest Paul James Sound
Join us on our Cruise January 22nd-27th... We sail out of New Orleans with destinations to Cozumel and the Yucatan (Progresso), then return to New Orleans.
Download the Flyer / Fill it out or call The Sonshine Group @ (865) 278-3681 and sign up with your Host Paul James Sound today...
Go ye into all the world and Preach The Gospel to Every Creature!
Mark 16:20